Japanese Working Life Profile
Japanese Working Life Profile, has ceased its publication as of winter 2017.
This booklet contains selected labor statistics to present a profile of Japanese workers from various perspectives. It covers basic statistical data to give a whole picture of Japanese labor situation, such as indices for economic environment, employment situation, working conditions, family life and social security policy. Also, it provides statistics on some topics dealing with current labor issues in Japan, including employment of elderly workers, increasing non-regular workers, foreign workers / labor migration, various working types, changing labor management relations, and so on.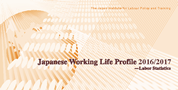 Contents
Economic Environment
Population / Labor Force
Employment
Labor Turnover / Unemployment
Working Conditions (Wages, Working Hours, Others)
Education / Human Resources Development
Labor Relations
Worker's Life
Social Security
Read the full text
Series Archive
Related Information
| | |
| --- | --- |
| | To view PDF files, you will need Adobe Reader Software installed on your computer.The Adobe Reader can be downloaded from this banner. |