Japanese Working Life Profile 2013/2014

—Labor Statistics
This booklet contains selected labor statistics to present a profile of Japanese workers from various perspectives. It covers basic statistical data to give a whole picture of Japanese labor situation, such as indices for economic environment, employment situation, working conditions, family life and social security policy. Also, it provides statistics on some topics dealing with current labor issues in Japan, including employment of elderly workers, increasing non-regular workers, foreign workers / labor migration, various working types, changing labor management relations, and so on.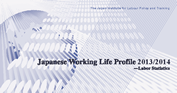 Full text
Japanese Working Life Profile 2013/2014 —Labor Statistics (PDF:2.69MB)
If it takes too long to download the whole text, please access each file separately.
Table of contents
Economic Environment

National Income
Production Index
Consumer Price
Employment

Employment Situation
Employment for Persons 65 Years Old and Over
Employment Situation of Non-regular
Foreign Labor
Working Conditions (Wages, Working Hours, Others)

Wage
Working Hours
Industrial Accidents
Retirement Allowance System
Education / Human Resources Development

Education System / School / Employment
Off-JT
Labor Relations

Labor Union
Labor Dispute
Ⅸ. Social Security

Social Security
Social Insurance System
Labor Insurance Benchmark
Series Archive
Japanese Working Life Profile 2013/2014
Related Information
| | |
| --- | --- |
| | To view PDF files, you will need Adobe Reader Software installed on your computer.The Adobe Reader can be downloaded from this banner. |