Japan Labor Review to Start Life Anew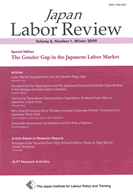 Readers may like to know that our Japan Labor Review, published as an English-language quarterly on Japanese labor topics since January 2004, is to start life in a completely new guise after this issue (Volume 14, Number 1, Winter). May we take this opportunity to express our sincere thanks for your interest in Japan Labor Review until now.
As a successor to Japan Labor Review, the Japan Institute for Labour Policy and Training (JILPT) plans to publish a new English-language journal from 2017 (title, publication date and frequency to be decided). The new publication will maintain the basic principles of Japan Labor Review and will continue to present research papers, but will also provide the latest information and data on labor in Japan. It will serve as a medium for introducing hot topics in the Japanese labor field to a global audience in English, aimed at a broad-ranging readership that will include not only researchers but also people working in industry, labor relations, governments and the media.
We hope the new publication will enjoy the same patronage and support as its predecessor.
Kazuo Sugeno
Editor-in-Chief, Japan Labor Review
The Japan Institute for Labour Policy and Training
January, 2017

On the Launch of Japan Labor Issues

Back Issues
Special Edition Combining Work and Family Care
Articles
Article Based on Research Report
---
(Published on January 10, 2017)
Japan Labor Bulletin
The Japan Institute of Labour, former organisation of JILPT, published monthly english newsletter "Japan Labor Bulletin" for over 40 years, covering topics and studies on labor issues. Though the publication is terminated due to the closure of the JIL, some of the newer issues (from January 1992 to september 2003) are available at here.
Contact
International Research Exchange Section
E-mail:j-emm [at sign] jil.go.jp
| | |
| --- | --- |
| | To view PDF files, you will need Adobe Reader Software installed on your computer.The Adobe Reader can be downloaded from this banner. |