This is a specialized collection of labor-related publications, mainly in social science containing 111,900 books in Japanese and 27,600 books in different languages, as well as 21,900 bound volumes of Japanese and Foreign journals.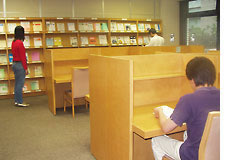 Service Hours: 9:00 am - 5:00 pm
Days Closed: Saturdays, Sundays, Public Holidays, Year-End and New Year holidays.
Users: The library is open to public.
Loan Policy: A maximum total of five books are checked out for up to two weeks (both Japanese / Foreign books). Pealse show your ID or library card when you check out books.
Copying Service: Self-Service (monochrome, only), 10 yen per sheet.
Access to the Labor Library at Kamishakujii Office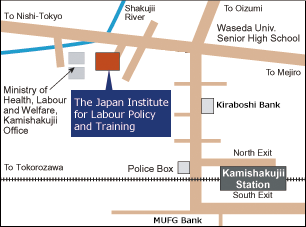 10 minutes on foot from Kamishakujii Station, Seibu-Shinjuku Line
Contact: 4-8-23, Kamishakujii, Nerima-ku, Tokyo, Japan 177-8502
Tel: +81-(0)3-5991-5033 Fax: +81-(0)3-5991-5659