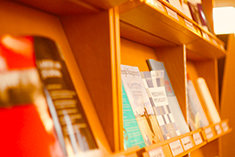 The Labor Library is a library dedicated to labor relations and is available to anyone.
We have a wide range of books and magazines related to social sciences such as economics, sociology, and education, as well as labor laws, labor economics, and labor movements.
Visiting Information
Opening Hours: 9:30 am - 5:00 pm
Days Closed: Saturdays, Sundays, Public Holidays, Year-End and New Year holidays.
Users: The library is open to public.
Loan Policy: A maximum total of five books are checked out for up to two weeks (both Japanese / Foreign books). Pealse show your ID or library card when you check out books.
Copying Service: Self-Service (monochrome, only), 10 yen per sheet.
Access to the Labor Library at Kamishakujii Office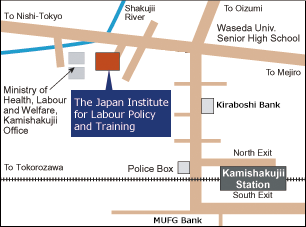 10 minutes on foot from Kamishakujii Station, Seibu-Shinjuku Line
4-8-23, Kamishakujii, Nerima-ku, Tokyo, Japan 177-8502
Document Search (Opac / Library)
You can search the labor library database.Access to database