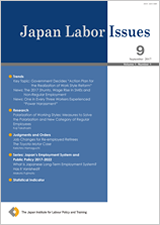 As change affects our societies in various forms—ongoing globalization, shifts in demographic structure, and new waves of information technology—it prompts new scenarios in industrial structure, corporate organizations and activities, labor-management relations, and the ways that people work. While the forms and outcomes of these changes differ across the nations and regions of the world, we must invariably face their effects. Particularly in the field of labor, there are key issues that need to be addressed as we develop our labor policies, such as the redefinition of labor law, reform in labor markets, renewed recognition of systems for representing workers, and problems related to immigration. With such challenges ahead, this journal introduces the recent developments in Japan in the field of labor to a global audience.

Read more
Please click below to sign up for our e-mail service.
If it takes long to download the whole text, please access each section file.
Trends
Research
Judgments and Orders
Series:Japan's Employment System and Public Policy 2017-2022
Published on September 25, 2018
Contact
International Research Exchange Section
E-mail:j-emm [at sign] jil.go.jp
| | |
| --- | --- |
| | To view PDF files, you will need Adobe Reader Software installed on your computer.The Adobe Reader can be downloaded from this banner. |