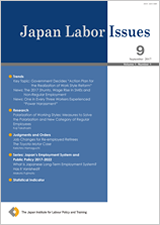 We now publish Japan Labor Issues online only (The latest print version is vol.5 no.30, April-May 2021 issue). If you have inquiries, please direct them to the Editorial Office.
This journal introduces the recent developments in Japan in the field of labor to a global audience.
It is comprised of five sections:
"Trends" addresses the key points in Japanese labor issues and recent developments in labor policy.
"Research" introduces papers covering research in the field of labor.
"Judgments and Orders" introduces major judicial precedents related to labor and commentary on them.
"Series: Japan's Employment System and Public Policy" systematically outlines the basis of labor situation in Japan and its analysis.
"Statistical Indicators" presents the current state of Japan's economy and labor.

About Japan Labor Issues
Latest Issue

Vol.5, No.35, December 2021

Full Text: Japan Labor Issue Vol.5, No.35, December 2021 (PDF:1.91MB)
If it takes long to download the full text, please access each section file below.
Eulogy
Trends
Research
Judgments and Orders
Published on November 25, 2021
e-Letter Japan Labor Issues
We will send the latest "Japan Labor Issues" via e-mail. Please click below to sign up for our e-mail service.
Contact
International Research Exchange Section (Editorial Office)
E-mail:j-emm [at sign] jil.go.jp
| | |
| --- | --- |
| | To view PDF files, you will need Adobe Reader Software installed on your computer.The Adobe Reader can be downloaded from this banner. |