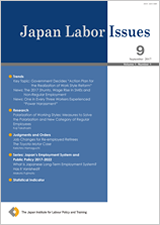 Japan Labor Issues, first published in August 2017, is an English-language online journal published on a quarterly base (five times a year) by the Japan Institute for Labour Policy and Training (JILPT).
Notice: The journal has ceased printing. The last print version is vol.5 no.30, April-May 2021 issue.
Latest Issue

Vol.7, No.41, January, 2023

Full Text: Japan Labor Issue Vol.7, No.41, January 2023 (PDF:2.1MB)

If it takes long to download the full text, please access each section file below.
Special Feature on Research Papers (I)
Research
Judgments and Orders
Series: Japan's Employment System and Public Policy
Published on December 23, 2022
e-Letter Japan Labor Issues
We will send the latest "Japan Labor Issues" via e-mail. Please click below to sign up for our e-mail service.
Contact
International Research Exchange Section (Editorial Office)
E-mail:j-emm [at sign] jil.go.jp
| | |
| --- | --- |
| | To view PDF files, you will need Adobe Reader Software installed on your computer.The Adobe Reader can be downloaded from this banner. |