JILPT Research Report No.200
Survey on Activities, Etc. of Nationally Licensed Career Consultants
March 16, 2018
Summary
Research Objective
With the establishment of national certification by examination system to set a baseline for career consultant competencies in April 2016, the social expectations placed on career consultants [Note 1] have increased, and further publicity and promotion of career counseling are required in various sectors. Three past surveys, at intervals of every few years, on the status of career consultants' activities have been conducted (2006; 2010; 2013), but there has been insufficient study in recent years, and especially since the establishment of the national certification examination. Therefore, we conducted a questionnaire targeting career consultants holding national credentials. The objective of this 2017 survey research was to grasp the actual status of career consultants' work and activities, and clarify their current situations and challenges so that they could contribute to society as part of a social infrastructure, and meet clients' needs effectively as professionals.
Research Method
(1) Survey target
Nationally licensed career consultants are enrolled at a specified nonprofit corporation, the Career Consulting Conference (that is delegated by the government, and referred to below as "the CCC"). The survey targeted 15,962 career consultants registered for the CCC's email newsletter.
(2) Survey method
A link to a dedicated questionnaire site was emailed to the targets above. Those career consultants responded to the web-based questionnaire via the site. The survey period was from June 30 to July 31, 2017.
(3) Number of responses
3,273 (response rate 20.5%)
Main Findings
It was verified that today there are a large number of career consultants in urban areas, at large enterprises, and among middle-aged and older people in their 40s and above. In addition, while private-sector companies are an important area of activity for career consultants, their range of activities has expanded beyond the four conventional areas of companies, schools, employment agencies (such as public employment security agencies, Hello Work), communities, and other areas such as medical facilities, welfare facilities, municipalities and so forth.
Issues career consultants found difficult entail people with developmental or mental health disorders seeking counseling in ordinary areas such as employment and job change support and career development. The findings indicate that in the future, consultants will be expected to engage with the appropriate experts so as to provide counseling and support even for people with special needs that lie outside of their expertise.
The survey inquired into the status of respondents who are certified career consultants currently inactive. The result showed clear indication that they generally hoped to be active, but were inactive because there was insufficient work for them (i.e. needs) in the vicinity. Inactive consultants were dissatisfied with this state of affairs and strongly hoped to start, or resume, activities. However, there were indications that some were unable to do so because of insufficient experience.
As to what respondents were doing to maintain and improve their skills as career consultants, the main responses were "building practical experience with counseling" and "participation in, or implementation of, workshops or study groups on career counseling, etc." With regard to information exchange and networking among career consultants, about one third stated that they had "no particular network or means of information exchange," indicating a need for network formation mechanisms using new approaches.
Respondents' degree of satisfaction with their activities as career consultants positively correlates with the frequency of these activities and the degree to which they recognize their qualifications as useful. Meanwhile, there was a significant disparity in satisfaction level by area of activity, with men having the highest level of satisfaction at "employment agencies," while for women it was highest in "communities." For both genders, degree of satisfaction at "companies" was significantly lower than in other areas.
Respondents were asked to freely describe their opinions regarding their activities as career consultants, and "improvement of recognition, position, or status," "increase in a sense of security and reliability," "self-awareness and confidence as a career consultant," and "ability to secure continuous learning opportunities" were cited as positive aspects of the career consultant national certification system. On the other hand, challenges facing this system were cited: "lack of social recognition," "lack of opportunities to engage in activities," and "burden of taking courses to renew certification." Future promotional and support measures that seem to be required include "much advance publicity about career counseling," "encouraging companies, etc. to adopt career counseling," "extending scope of activities," "providing information to serve someone's career," and "offering opportunities for training, supervision, and networking."
Chronological tracking of career consultants' activities indicates that (i) in general, activities at companies have expanded significantly in the past 10 years, while at employment agencies (especially public employment security agencies) they have decreased, (ii) over the past 10 years career consultants working full-time or in specialized fields have decreased, while career consultants that concurrently hold other positions or work in other fields have increased, (iii) in terms of issues raised in counseling, "content of current work or duties," "relationships in the workplace," "future lifestyle plans, skill development plans, career plans, etc." were on the rise, while "how to proceed with job seeking or job change" and "future career design and selection" fell.
Figure 1. Career consultants' primary areas of current activity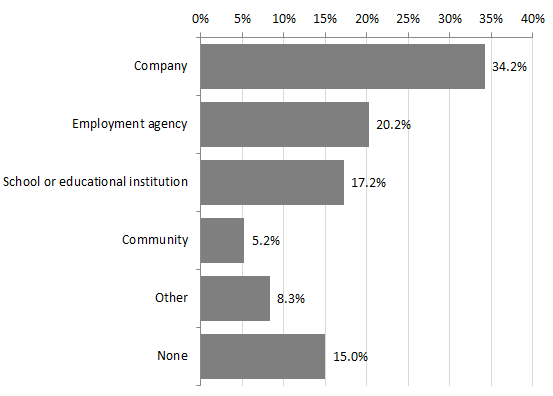 Figure 2. Change in career consultants' primary areas of activity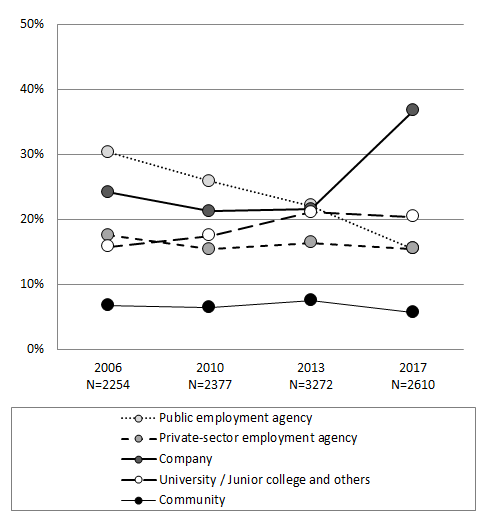 Policy Implications
The primary focus for career counseling activities has been shifting from employment agencies to private-sector companies over the past 10 years. Factors significantly contributing to this trend include government's decision to set a baseline for career consultant competencies, namely, the national examination system to certify career consultants through revision of the Human Resources Development Promotion Act, employers' ensuring career counseling opportunities for their employees, mandatory career counseling under the revised Worker Dispatching Act, promotion of the Self-Career Dock system [Note 2], and other systemic improvements that boost career counseling within companies. However, it is evident that further appropriate systemic support measures are required to increase visibility and promote career counseling.
Over the past 10 years, the areas of career counseling has been extended to medical institutions, welfare facilities, and municipalities, and so forth. This expansion in the community and welfare areas indicates that career consultants' knowledge and skills related to job-seeking and employment support are required and can be utilized effectively in various fields. In the future, in popularizing and promoting career counseling, consideration should be given to means of indirectly supporting career consultants' activities expanding into various fields.
Difficulty in dealing with developmental disorders, etc. was consistently indicated in various forms as a new issue facing the field of career counseling. This indicates that career consultants working on the front lines will have serious problems if there are no clear and concrete guidelines for handling special counselees and no appropriate institutional or policy support. It is necessary to identify appropriate future directions regarding issues career consultants will face.
It should be noted that freelance and self-employed career consultants are increasing, and in particular, that there is a need for some career consultants to work independently. Examining how independence or autonomy in the career counseling profession should be viewed will be a task for the future. In addition, this survey once again pointed to issues to be studied from a medium- to long-term perspectives, such as further efforts of public relations and visibility of career counseling, and issues surrounding treatment and compensation.
Policy Contribution
An outcome of these research findings was reported at the Ministry of Health, Labor and Welfare, Ninth Study Group on the Career Consultant Certification System (December 8, 2017) and utilized by the Group. Going forward, these findings seem to have the potential to contribute to a wide range of career counseling policies (including career counseling measures, Self-Career Dock System, Job Card System [Note 3], etc. and vocational ability development policies.
Note 1. The national certification of career consultant is a credential for a specialization in career development and counseling in theory and practice, which is authorized by the MHLW. In Japan, "career counseling and guidance" are referred to as "career consulting."
Note 2. Self-Career Dock System
A system that provides employees with counseling by career consultants utilizing Job Cards at regular intervals (depending on the age of workers, the years of service of employment, and job title, etc.) to support awareness of career formation.
Note 3. Job Card System
A tool aimed at aiding lifelong career planning and proof of vocational ability. Utilized for application forms during job seeking activities and for career counseling.
Main Text (only available in Japanese)
Research Categories
Project Research: Research on Career Formation Support toward the Achievement of a "Society in Which All Citizens are Actively Engaged" (zen'in-sanka-gata shakai)
Subtheme: "Research on Workers' Independent Career Formation and Support for It"
Research Period
April 2017-March 2018
Authors
Senior Researcher, Department of Career Guidance, JILPT

Hiroshi TAKAHASHI

Director of the Youth Career Institute, and Executive Director of Japan Career Development Association

Tomomi MAEDA

Career Consulting Conference (Special Nonprofit Organization)

Maki ARAME

Associate Professor, Polytechnic University
Related Research
Related Information
| | |
| --- | --- |
| | To view PDF files, you will need Adobe Reader Software installed on your computer.The Adobe Reader can be downloaded from this banner. |