JILPT Research Eye
Development and Dilemma of Employment Business in the Career-Change Market
November 19, 2015
(Originally published on June 18, 2015 in Japanese)

Research Director, Department of Career Guidance
There are now greater expectations of the role to be played by employment business (private employment services sector) in achieving the policy target of labor mobility without unemployment. Surprisingly, however, little is known about the current situation of employment business in the career-change market.
Here, I will outline the structure of Employment business as it develops amid "competition for survival", "symbiosis" and "habitat isolation", to borrow terms from the natural world, together with one aspect of the dilemma it faces[Note 1].
Expansion of the role played by job information business in the career-change market
Looking first at the career-change market in terms of employment access routes, job advertisements (job information business), Hello Work (public employment security offices) and personal connections account for around 80% of the total, while the share taken by private job placement agencies is relatively small.
By size of the companies joined, the share of job information (job advertisements) increases as corporate scale gets larger, while conversely the share of "Hello Work" introductions increases as the scale decreases, revealing a mutually complementary relationship between the two.
Ratio of employment access routes by corporate size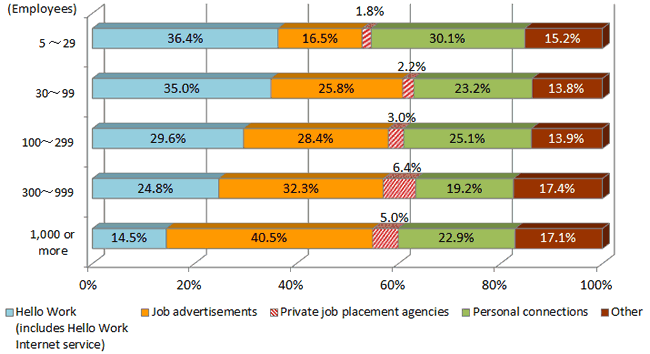 Source: Compiled by the author from MHLW "Results of Survey on Employment Trends" (2012).
Notes: Ratio of persons entering employment after a career change. "Other" includes school, secondment, return from secondment, etc.
Job information businesses occupy a large share of the career-change market and have a certain degree of habitat isolation from public services ("Hello Work"). Nevertheless, the role they play in the career-change market cannot be described as sufficiently appraised by society until now. In terms of their functions, they have been perceived as simple devices solely enabling jobseekers to confirm the content of job vacancy information.
In reality, however, job information agencies not only provide information on job openings, but also offer various services that help published information lead to filled positions.
An example of these services is the use of photographs and comments, both to confirm facts and also to form an effective image for jobseekers. As points of contact, they provide support and coordination for job offerers to set job vacancy requirements and conditions, etc. They have also acquired the secondary functions of relaying information on salaries and establishing local market prices.
Growth of Employment business through competition and symbiosis based on web use
Information on job vacancies was originally provided (advertised) using paper media, but in recent years, many job information agencies have started to expand into online business. The advantage of using the web is that it offers features that were not possible with paper media, such as helping jobseekers who are registered online to find employment, and inviting them to apply for job offers with promotional emails.
With the online job information business now spreading so rapidly, it is important for job information agencies to have a prominent presence when jobseekers search the web. Thus, to compete with the major players in job vacancy information, up-and-coming and medium-sized companies try to improve their presence by clearly targeting favored sectors in a segmented (specialized or differentiated) market. To counter this move, large corporations have also started leaning toward strategies for individual segments, backed by their large share of the market as a whole.
This rapid expansion of online job information amid mutual improvement efforts has even spawned new business models.
Conventionally, the income of job information agencies used to derive from fees for publishing job vacancy ads. In recent years, however there appeared some agencies using results-based remuneration or decision-based fee payment system, where advertising a job is free and the commission is paid by the job offering enterprise when a jobseeker responds to the ad and is given the job. These agencies have achieved a rapid improvement in business performance. Besides this income from job offerers, there is also another method of earning income through provision of the information on jobseekers registered online to other job placement agencies.
Due to the expansion of this kind of jobseeker registration scheme, the provision of jobseeker information from job information agencies is now an indispensable element in business strategies, even for job placement agencies in the business sector. While many large job information agencies themselves undertake job placement business, they now also provide information to 200-300 job placemant agencies that are their competitors, on account of the high profit margins. On the other hand, it is also common for job placement agencies to receive jobseeker information from several job information agencies.
Thus, competition and symbiosis between employment businesses are developing simultaneously.
Different development in metropolitan and provincial areas
While the online service of employment business is spreading rapidly worldwide, it would be hard to say, judging from the rate of Internet use when entering employment (around 40% use the Internet for jobseeking activity, but less than 20% use job information sites)[Note 2] that job information sites are the principal method used when changing careers.
In provincial areas, in particular, there is a lower demand for skilled labor with advanced levels of specialty and occupational skills, while the distinction between the treatment of standard and non-standard employees is not so clear as in major cities. This means that in these areas job information magazines and other paper media function more effectively since it is easy to look for local job vacancies broadly and comprehensively.
Many major corporations in metropolitan areas are negative on the issue of expanding into paper media in provincial areas, out of concern for the cost effectiveness of investment. This has given rise to a situation in which local job information agencies that have built up local trust over many years of  painstaking promotional and reporting activities maintain a local market share, which is different from that in the metropolitan areas.
Dilemma remains as innovation and development proceed
With the expansion of labor demand, employment businesses also wish to expand their activity. However, after the experience of the Lehman collapse, they are forced to aim for business strategies that involve less cost (particularly personnel cost), bearing in mind the possibility that labor demand will shrink again some day. As a result, Employment businesses are expected to devote even greater energy to developing the more cost-effective business related to online job vacancy and jobseeker information.
Job placement business will continue to be an effective means in terms of job matching, but at the same time it also has the problem of high personnel cost. Therefore, even job placement agencies, in collaboration with job information businesses, are starting attempts to develop simple, low-cost business in the form of non-face-to-face interview job placement. This is a system whereby jobseekers receive mediation through email, telephone, or other means, without actually being interviewed by the job placement agency (mediator) in person.
In this way, employment businesses are expected to continue innovating and developing amid a scheme of competition, symbiosis and habitat isolation in future, in awareness of the constraints presented by periods of decrease in labor demand. On the other hand, however, they face a huge dilemma going forward.
That is, due to the nature of their business, their priority is to supply human resources (jobseekers) required by job offerers, but meeting the requirements of those job offerers has become even more difficult.
Looking at trends in the number of career changers pre- and post-Lehman, we find that after the Lehman collapse, the number of career changes overall decreased significantly. But while this kind of decrease in career changers was originally not so evident in middle to older age brackets, the decrease in the post-Lehman recession was more pronounced in younger age groups.
Seen from the opposite angle, in a period of expanded labor demand, career changes can be anticipated among younger age groups, but not so much in middle to older age brackets.
Trends in numbers of career changers by age group (2004-2013)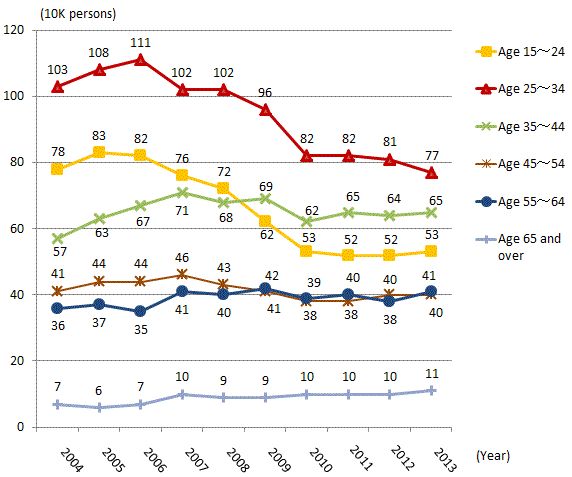 Source: Compiled by the author from annual averages in "Labour Force Survey Results", Statistics Bureau, MIC
As their age increases, they are recruited into even higher positions, and the requirements of speciality, job experience and acquired skills as readily deployable workers become more stringent.
Among those in middle and higher age groups today, only very few have developed a career in which they organize and utilize their own strengths in a form that can meet the strict specifications demanded in the career-change market. For this reason, at a time of increased job openings, career changes only increase by hiring younger age groups that offer greater potential, even if not fully satisfying specifications.
In the employment business, too, age groups from the second half of the 40s onwards are a sector with poor efficiency that is difficult to deal with. Bearing in mind that aging will progress further in future and the weight of middle and higher age groups will increase, it will likely be difficult to address this by stimulating employment business alone.
As well as revitalizing employment business, human resource and career development support inside companies will surely need to be enhanced, enabling it to prevail in the career-change market.
Note 1. Research Report No.175 "Development of Employment business in the Career-Change Market", published on April 30, 2015, as part of the "Survey Research on Occupational Trends and Occupational Mobility".
Note 2. According to MHLW "Results of Survey on Employment Trends" (2012).
---