JILPT Research Report No.192
Childcare, Family Care and Pursuing Vocational Careers:


Women's Labor Force Participation and Men's Home Life
March 31, 2017
Summary
Research Objective
Now 30 years have passed since the enactment of the Equal Employment Opportunity Act in 1985, 25 years since that of the Childcare Leave Act in 1991, and 20 years since that of the Childcare and Family Care Leave Act in 1995.This research elucidates policy tasks related to women's participation in the labor force and support for work-life balance, through both analyzing current situations in division of labor and roles in child and family care at home by gender, and clarifying factors that maintain or transform gender roles.
Research Method
Interview survey, questionnaire survey
Main Findings
Women's careers have changed since the 1999 Amendment of the Equal Employment Opportunity Act came into force. Of women who started their careers before the amendment, the proportion of those reaching management posts with their first employer is low, though in regular employment; most of them have made career move to management posts with transferring to other employers. Of those who started their careers after the amendment came into force, the rate of continued regular employment in their first job employer has risen, while the non-regular employment ratio has also risen.
Recently, better results by females in new graduate recruitment tests have led to a rise in their hiring ratio, and companies that hire a large proportion of female employees also have a large proportion of women promoted to management posts. However, internal transfers (relocation to different work sites) have a negative impact on women's careers (Figure 1).
Strong motivation to higher rank in organization is prevalent among unmarried women and those who are widowed or separated from their spouses. Although unmarried women are strongly oriented toward high income, promotion is not such a motivating factor. Those who are widowed or separated from their spouses are strongly motivated toward promotion, but many of them feel a conflict between jobs and family responsibility.
In terms of men's working styles, there is a connection between reduced overtime in core work duties and women's promotion to management posts. When men take long-term childcare leave lasting a month or more, their wives subsequently have higher ratios of full-time employment while the men themselves are more likely to have their working hours reduced. Conversely, men who have atypical working hours such as shift work or Sunday work have a low rate of participation in childcare, and their wives also have a low ratio of full-time employment.
Male caregivers have a lower job-quitting ratio and a lower ratio of taking time or day off to care for family members than women do. However, they also have a relatively high risk of serious negligence or causing accidents due to health problems resulting from family care (Figure 2).
Figure 1. Proportion of women promoted to section manager, by corporate scale and existence of a transfer system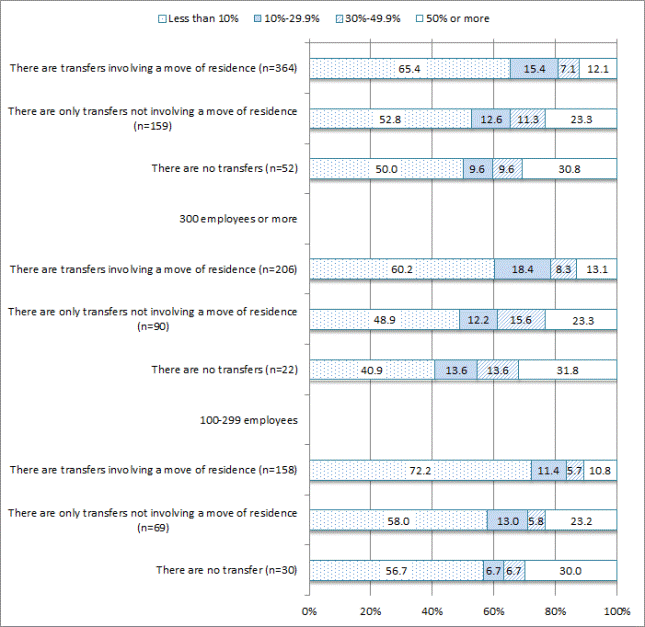 Source: JILPT, 2016, Survey on human resource management and work styles of male and female regular employees (Company Survey), Research series no.169.
Figure 2. Experience of near misses, by gender: By injury, illness, fatigue or stress due to family care (currently in regular employment)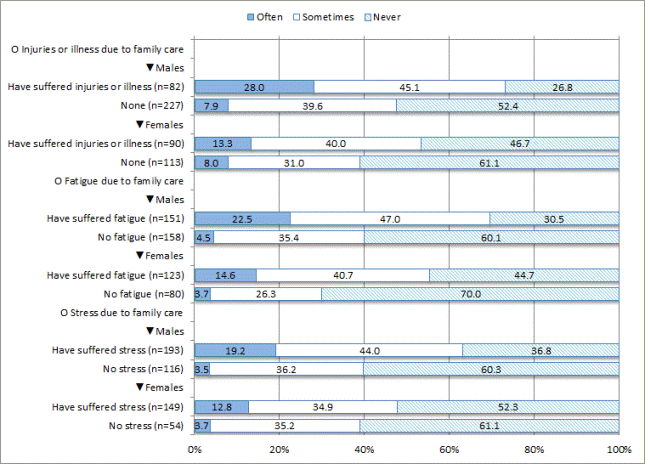 Source: JILPT, 2014, Combining work and care, Research report no.170.
Policy Implications
As well as support for continued employment, based on the model of quitting work to give birth, other forms of support are becoming increasingly important – specifically, support that enables non-quitting workers to have a better balance between work and home life, and support that addresses diverse work-life balance issues, including "support for incumbent workers."
Key contentions are (i) to secure sufficient numbers of female regular employees as candidates for management posts, (ii) to achieve men's work style reform addressing long-term childcare leave and living for childcare, and (iii) to identify issues in dealing with caregivers' presenteeism (i.e. the practice of persistently working longer hours with fewer holidays than the terms of one's employment demand, especially as a result of fear of losing one's job).
Policy Contribution
The outcome of this research could provide basic data for studying policies on equal opportunities and work-life balance.
Main Text (only available in Japanese)
Research Categories
Project Research: "Research on Companies' Employment Systems and Personnel Strategies, Improvement of the Quality of Employment through Development of Employment Rules, and Realization of Decent Work"
Subthemes: "Research on Work and Life"
"Research Project on Promoting Women's Participation in the Labor Market"
Research Period
FY2012-FY2016
Authors
Senior Researcher, JILPT

Kazufumi SAKAI

Assistant Fellow, JILPT

Tamotsu NAGATA

Research Director, JILPT
Researcher, JILPT

Kaoru OOKAZE

Research Fellow, Ochanomizu University

Kayo HASHIMOTO

Lecturer, Chikushi Jogakuen University

Shigeki MATSUDA

Professor, Chukyo University

Hideki NAKAZATO

Professor, Konan University

Kota TOMA

Researcher, National Institute of Population and Social Security Research
Related Research Results
Research Material Series No.118 "Men's childcare, family care and work styles: Identification of tasks for future research" (2013)
Research Material Series No.136 "Fathers' work style and home life: Report on interview survey results" (2014)
Research Series No.153 "Survey research on employment and job quitting by caregivers" (2016)
Related Information
| | |
| --- | --- |
| | To view PDF files, you will need Adobe Reader Software installed on your computer.The Adobe Reader can be downloaded from this banner. |