JILPT Research Report No.165




Labor Management Relations in Sweden

:


With focus on analysis of agreements ("Research Project on Directions for Collective Labor Management Relations in Connection with the Establishment of Norms", Swedish case)
May 27, 2014
Summary
Research Objective
In Japan today, collective agreements are positioned in labor legislation as legal norms taking precedence over rules of employment. In spite of this, such agreements only have a weak presence, as company unions form main stream and union density is low. Instead, rules of employment stipulated by employers occupy a central position in legal norms. In European countries, however, in addition to national laws collective agreements concluded at both national and industrial level regulate the work rules. Nevertheless, decentralization of industrial relations has been pointed out in recent years.
Therefore, with a principal focus on European countries where industry-level collective agreements are the prevailing norm, empirical and comprehensive Research will be made on the nature of collective labor relations concerning the establishment of norms in advanced nations including collective bargaining above company level,  extension of the effect of collective agreements, and collective bargaining or joint consultation between employees and management at company level.  The findings will then be expected to become a basic material for macro-policy discussions on future directions for the Japanese labor society.
Within this project Research, the following issues have been given particular attention and surveyed in this study.
Revealing the actual situation of labor relations in countries where industrial relations in industry level are still practiced.
Revealing the body of rules on wage determination and labor mobility which form the core in the Swedish model (see

Fig. 1

).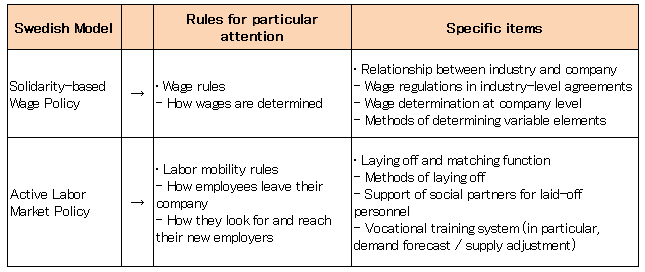 Research Method
Field survey, literature survey, Research group meetings
Major Findings
Unlike the system in Germany, labor-management relation is a single structure.
There are no industry agreements at regional level. Industry agreements are invariably central agreements concluded by central bodies (sector agreements).
Although the organization rate is in a declining trend compared to the early 1990s, it still remains above 60%. In manufacturing industries, the rate of decrease is lower and a level of nearly 80% has been maintained. The coverage rate remains high, reaching 91% among blue collar workers.
When there are both union members and non-members in the same business establishment subject to an industry agreement, its content also applies to the non-members.
On the relationship between agreements (industry agreements and local agreements), there is a rule known as "Normerande Verkan (NV)". For matters regarded as coming under NV, the content of industry agreements is also applied without modification at local (company) level. For matters not coming under NV, the content of industry agreements may be changed by local agreements. As wage rises (wage pools) are not NV, the content of industry agreements may be changed via labor-management negotiations at company level.
In reality, however, agreements on a level below that of industry agreements cannot be concluded at company level. This is largely due to the bargaining power of unions (clubs) at local level.
On the other hand, industry agreements only specify very rough and brief provisions on wages. The content of industry agreements do not necessarily set detailed provisions. On the job description, for example, the provisions shown in

Fig. 2

have been established. To quote the union leader of Company V, "Companies have their own wage systems and their own tariffs. The wages of each worker are decided in line with the company's system".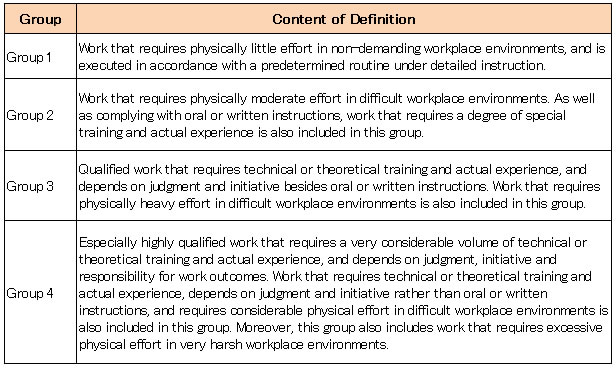 Source: Compiled by the author from Kollectiv avtal Teknikavtalet IF Metall 2007-2010.
Competency assessment has also been introduced for blue collar workers. However, the unions use this variable wage portion as a tool for ensuring stable and collective wage increases. Competency assessment has been introduced at the union's request in one case (Company A). In view of the above, the introduction of variable pay is thought to energize rather than undermine unions. This suggests that competency assessment does not lead to reduced solidarity of unions, as is generally said.
The selection of personnel for planned lay-offs is not always based on seniority provisions specified in employment protection law, and personnel are not selected automatically. The unions themselves understand that strict application of seniority provisions would make the actual work unsustainable, and therefore do not demand unreasonable application from management.
The number and selection of personnel for planned lay-offs are decided via labor-management negotiations at local level. These are neither wholly decided on company's own, nor wholly in accordance with seniority rights as provided by law. They are carried out after reaching a consensus with a reasonable content that matches the wishes of both labor and management through negotiations.
In the process, numerous negotiations are held between labor and management. In return for accepting the burden of responding to these repeated negotiations, management can reflect its own wishes in the selection of lay-off personnel to a certain extent.
The reason why such repeated negotiations are held between labor and management is that, if agreement cannot be reached with the union on the number and selection of personnel cuts, legal provisions on seniority rights are automatically applied.
It was also suggested that regional branches of industry unions could play a key role for helping layoffs to find new jobs.
Policy Implications
Unions at local level (mainly business establishments or workplaces) play significant roles in maintaining the system of industrial relations based on industry agreements. This seems to suggest that the roles of unions at company level would not decrease even if a system of collective labor relations were created at industry level.
On the other hand, management can enjoy certain financial advantages by taking part in labor relations at industry level, (e.g. exemption of employer's contributions to insurance premiums, union's control toward statements by workers making excessive pay raise demands in the workplace, etc.). In view of this, it is thought that a system of collective labor relations must be created in a form that has merits for both labor and management.
The analysis of labor-management negotiations on planned lay-offs revealed that the legal provision of seniority rights encourages negotiations within business establishments, rather than the exercise of the rights themselves. It can be said that a specific legal provision, in conjunction with provisions for deviation, contributes to promoting deep and fruitful negotiation between labor and management within companies.
Policy Contribution
This will be an indispensable material for various policy-making entities, when studying plans on the macro policy issue of the nature of employment systems and systems of collective labor relations, based on the ILO rule of tripartite composition (government, labor unions and employers' organizations).
Contents
Cover – Preface – Authors – Contents
Introduction Purpose and summary of the Research
Chapter 1 Characteristics of Swedish labor management relations
Chapter 2 How wages are determined —Based on the provisions of industry agreements and labor-management negotiations at business establishment level
Chapter 3
Conclusion Findings of fact and their implications
Appendix Engineering sector collective agreements 2007–2010
Research Categories
Project Research "Research on Mechanism for Establishing Terms and Conditions of Employment, Centering on Labor Management Relations"
Subtheme"Research project on directions for collective labor management relations in connection with the establishment of norms"
Research Period
FY2013
Authors
Researcher, Japan Institute for Labour Policy and Training
Related Information