HIGUCHI Yoshio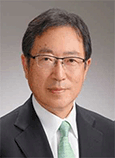 Professor Yoshio Higuchi born in 1952 took office from the 1st April 2018 as President of the Japan Institute for Labour Policy and Training.
Professor Higuchi received a Ph.D. in Business and Commerce from Keio University and specialized in Econometrics, Labor Economics, Labor Market, Household Behavior, and Population. His academic career began from the appointment as Associate Professor of Keio University in 1977. Since then he has held prominent positions such as Professor in the Faculty of Business and Commerce of Keio University (1991-2018). He served as Dean of the Faculty of Business and Commerce(2009-2013), Chair of the Graduate School of Business and Commerce of Keio University (2009-2013). He also serves as Chairperson of the Labour Policy Council of the Ministry of Health, Labour and Welfare(2013-), Chairperson of Economics Committee, Science Council of Japan (2009-2014) and Chairman of the Statistics Committee of Cabinet Office (2009-2014). He is now Project Professor of Keio University (2018-).
He was Visiting Researcher at Department of Economics, Columbia University (1985-1987) and the Stanford Institute for Economic Policy Research (1995-1996). He was also Visiting Professor at the EHESS Paris France Japan (2014) and Visiting Researcher of Columbia University (2015).